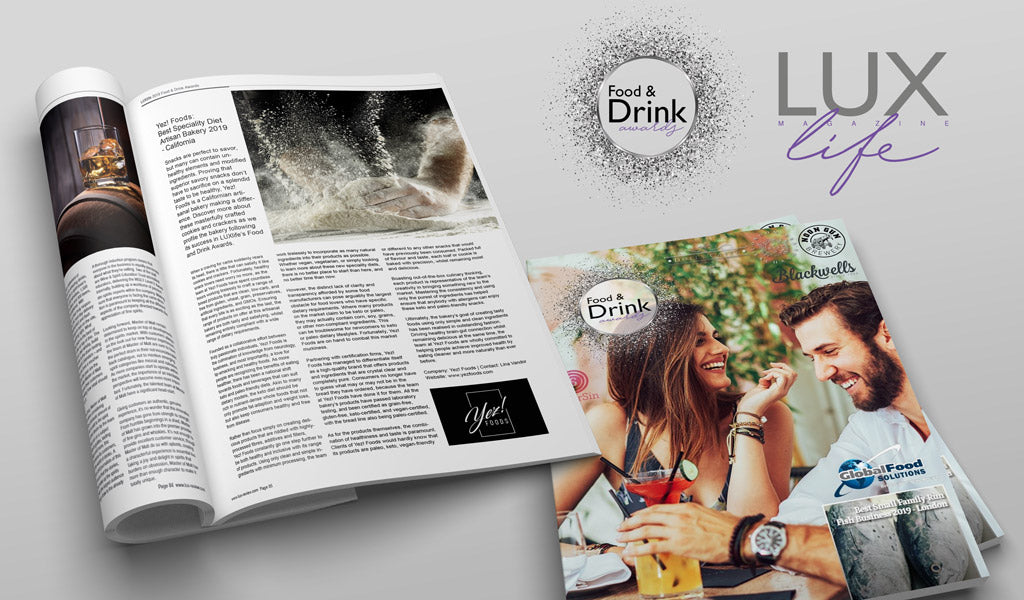 Yez! Foods: Best Speciality Diet Artisan Bakery 2019 - California
Snacks are perfect to savor, but many can contain unhealthy elements and modified ingredients. Proving that superior savory snacks don't have to sacrifice on a splendid taste to be healthy, Yez! Foods is a Californian artisanal bakery making a difference. Discover more about these masterfully crafted cookies and crackers as we profile the bakery following its success in LUXlife's Food and Drink Awards.
When a craving for carbs suddenly rears its head, there is little that can satisfy it like cookies and crackers. Fortunately, healthy snack lovers need worry no more, as the team at Yez! Foods have spent countless hours working tirelessly to craft a range of bread products that are clean, low-carb, and free from gluten, wheat, grain, preservatives, artificial ingredients, and GMOs. Ensuring that every bite is as exciting as the last, the range of products on offer at this artisanal bakery are both tasty and satisfying, whilst remaining entirely compliant with a wide range of dietary requirements.

Founded as a collaborative effort between truly passionate individuals, Yez! Foods is the culmination of knowledge from neurology, business, and most importantly, a love for lip-smacking and healthy foods. As more people are recognizing the benefits of eating healthier, there has been a national shift towards foods and beverages that can suit keto and paleo-friendly diets. Akin to many dietary models, the keto diet should be rich in nutrient-dense whole foods that not only promote fat-adaption and weight loss, but also keep consumers healthy and free from disease.

Rather than focus simply on creating delicious products that are riddled with highly processed fibres, additives and fillers, Yez! Foods constantly go one step further to be both healthy and inclusive with its range of products. Using only clean and simple ingredients with minimum processing, the team work tirelessly to incorporate as many natural ingredients into their products as possible. Whether vegan, vegetarian, or simply looking to learn more about these new speciality diets, there is no better place to start than here, and no better time than now.

However, the distinct lack of clarity and transparency afforded by some food manufacturers can pose arguably the largest obstacle for food lovers who have specific dietary requirements. Where many products on the market claim to be keto or paleo, they may actually contain corn, soy, grains, or other non-compliant ingredients. This can be troublesome for newcomers to keto or paleo dietary lifestyles. Fortunately, Yez! Foods are on hand to combat this market murkiness.

Partnering with certification firms, Yez! Foods has managed to differentiate itself as a high-quality brand that offers products and ingredients that are crystal clear and completely pure. Consumers no longer have to guess what may or may not be in the bread they have ordered, because the team at Yez! Foods have done it for them. All the bakery's products have passed laboratory testing, and been certified as grain-free, gluten-free, keto-certified, and vegan-certified, with the bread line also being paleo-certified.

As for the products themselves, the combination of healthiness and taste is paramount. Clients of Yez! Foods would hardly know that its products are paleo, keto, vegan-friendly or different to any other snacks that would have previously been consumed. Packed full of flavour and taste, each loaf or cookie is baked with precision, whilst remaining moist and delicious.

Boasting out-of-the-box culinary thinking, each product is representative of the team's creativity in bringing something new to the market. Mastering the consistency and using only the purest of ingredients has helped ensure that anybody with allergens can enjoy these keto and paleo-friendly snacks.

Ultimately, the bakery's goal of creating tasty foods using only simple and clean ingredients has been realised in outstanding fashion. Driving healthy brain-gut connection whilst remaining delicious at the same time, the team at Yez! Foods are wholly committed to helping people achieve improved health by eating cleaner and more naturally than ever before.
Original Post: https://www.lux-review.com/issues/food-and-drink-awards-2019/85